Athleticwear.ca is on online distributor of Champion Apparel and a division of Checkpoint One Apparel Corp.
NOTE: These products cannot be resold without decoration. Any customers found re-distributing blank Champion products will have their accounts terminated.
All orders must be over $200 (before shipping and taxes). Sample orders are available, but you must provide the anticipated bulk order date, location that they'll be decorated at, and company/organization requesting the sample pieces. Contact orders@athleticwear.ca for more details!
Since 1919 Champion has inspired athletes on and off the field with its authentic, American athletic apparel. From iconic Champion activewear to the latest in performance workout clothes for men, women and kids, you'll find quality sportswear for every level of play.

If you're looking for some customization, you can email Stitchworks.ca for a quote on printing and/or embroidery. Check out more details here.
Visit Checkpointone.ca to see all our brands!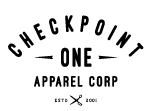 Accreditation
We are a proud member of the Better Business Bureau. Click the image below to check our A+ rating.